Win for Complete Streets in Adoption of Measure M Master Guidelines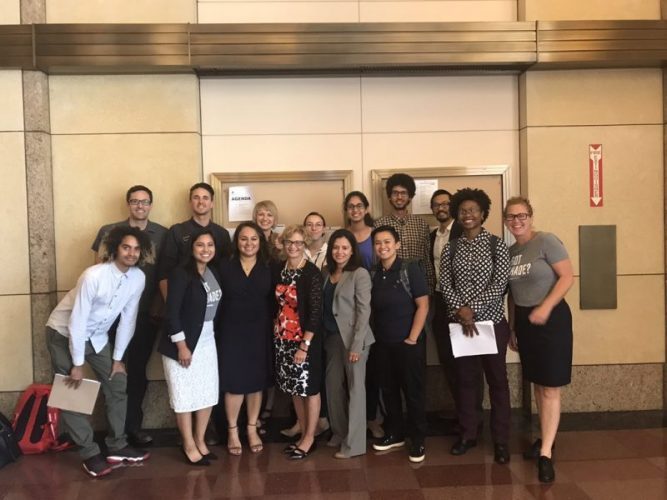 Image courtesy Investing in Place 
Folks, today was, in a word, historic. After months of advocacy, transportation advocates in Los Angeles came together at today's Metro Board Meeting to urge Metro to support a Measure M Master Guidelines that prioritizes complete, green streets, and active transportation. And we were successful! We are incredibly proud that the Metro Board showed true climate leadership and adopted Motions 38.1, 38.2, 38.3, 38.4 and 38.5, resulting in the removal of Level of Service (LOS) as a metric for the Guidelines, the inclusion of complete streets, active transportation and greenways as eligible expenditures in the Highway subfund, so that our infrastructure investments will serve all who road the use, and not only automobiles.
Thank you to our EnviroMetro core partners that showed up and testified:
Raquel Menanno from Amigos de los Rios,
Wesley Reutimann from Bike SGV,
Bryn Lindblad from Climate Resolve, and
Belinda Faustinos from San Gabriel Mountains Forever.
This was truly a collaborative effort that could not have been accomplished without leadership and organizing from the folks at Investing in Place, LACBC, AARP, ACT-LA, Advancement Project, Los Angeles Walks, American Heart Association, and Safe Routes to School!
Next Steps 
As the administrative guidelines development and the Long Range Transportation Plan update gets underway, we will continue to advocate for the inclusion of urban heat mitigation, the inclusion of reduced vehicle miles traveled (VMT) as an objective, a broader definition of greenways that includes utility corridors in addition to waterways, and expanded opportunities for transit to open space.