Fund Community Transit to L.A. County Public Lands!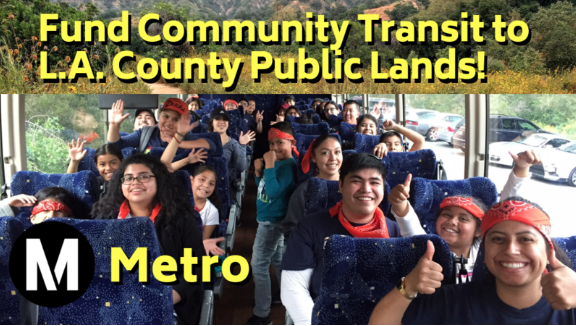 Did you know that:

85% of the region's population does not have pedestrian access to parks or green space (Park Needs Assessment, 2015); and
22% of high-quality parks do not have direct transportation access without a car, with the number being much higher for large open spaces like mountains, trails and beaches (Draft Metro Transit to Parks Strategic Plan, 2019).
Because of income, inequity and geography, many residents in LA county are not able to enjoy green space and nature destinations. Join COFEM, Anahuak Youth Sports Association, and Active SGV's petition that calls on Metro to fund and prioritize services for LA County's low-income communities of color in the upcoming Metro Transit to Parks Strategic Plan. Their petition includes asking for: 1) a full-time Transit to Parks Coordinator and general program marketing assistance; 2) pilot projects to create transit connections to big regional open spaces; and 3) community bus programs to take residents to long-distance destinations like mountains and beaches.

The petition also asks Metro to reduce the number of people who lack access to parks by 5% annually, to use the data in the Transit to Parks Strategic Plan to set the baseline, and to commit to update the data in congruence with the LA County Park Needs Assessment every 5-8 years.

COFEM, Anahuak Youth Sports Association, and Active SGV will present the petition and their concerns to the Metro Planning Committee meeting at 2 p.m. on June 19!